Hi All, Hope everyone is doing well. Where has are summer gone? I've no clue

But all the more time to do some reading. This months book is The Heaven Of Mercury by Brad Watson
Finus Bates has loved chatty, elegant Birdie Wells ever since he saw her cart-wheel naked through the woods near the backwater town of Mercury, Mississippi, in 1917. Having "caught hold of some loose line in her that would attach itself to stray wildness," and never let go, he's loved her for some eighty years: through their marriages to other people, through the mysterious early death of Birdie's womanizing husband, Earl, and through all the poisonous accusations against Birdie by Earl's no-good relatives.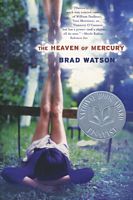 A gorgeous portrayal of lifelong friendship, restless passion, marital discord and accommodation, aging and remembrance, death and afterlife, The Heaven of Mercury is inscribed in prose so eerily fine it is one of life's true pleasures.
A nominee for the 2002 National Book Award, The Heaven of Mercury has been warmly received. The Charlotte Observer calls it "a strangely beautiful book."
To Reserve a copy of this book please visit are The Heaven Of Mercury by Brad Watson ">website.